There are many benefits to adding a deck to your home, and they can extend far beyond outdoor entertainment. From increasing the value of your property to providing additional outdoor living space, and an outdoor kitchen, installing a deck is an easy way to instantly upgrade your home.
Whether you're looking for ways to bring nature into your backyard or simply enjoy spending time outdoors with family members and friends, these five benefits of adding a deck will show why it's worth the investment. Read on as we explore how decks can make your dream house come true!
Increase your outdoor living space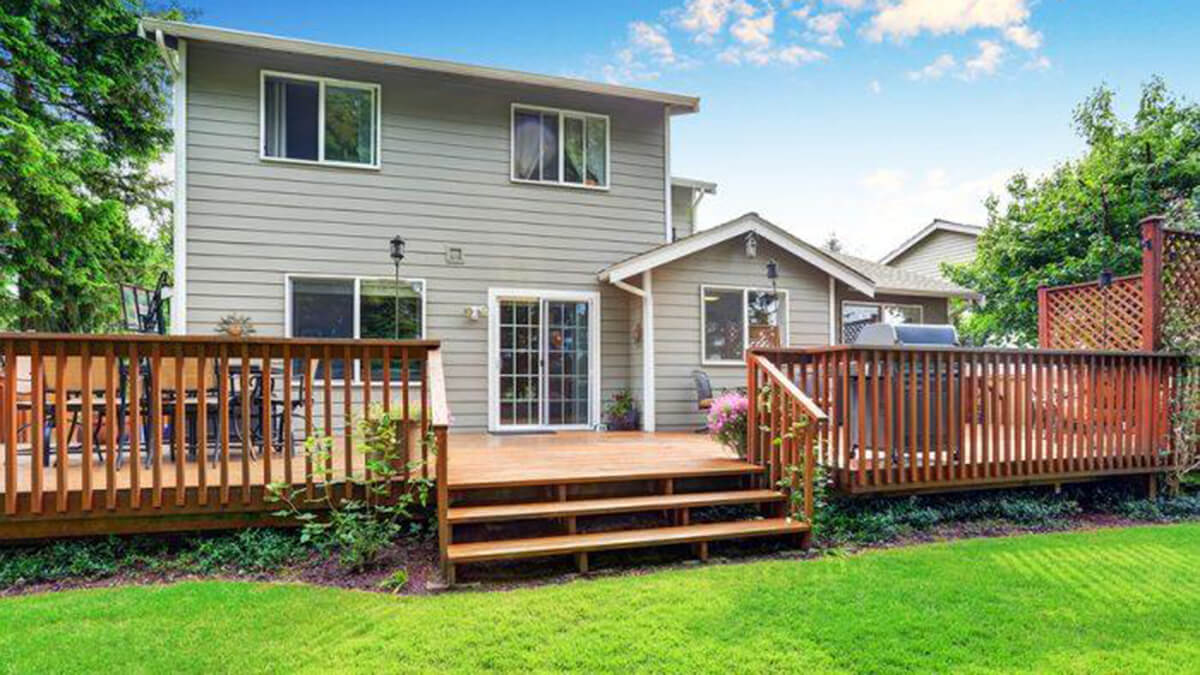 With a properly configured deck, you can expand your outdoor living space without having to spend time out to remodel your home. The perfect deck also can be used for multiple purposes such as barbecuing with friends and family or simply enjoying a cup of coffee in the morning sun.
You'll have plenty of room to set up chairs and tables, allowing everyone to enjoy the outdoors together. A deck also offers extra storage space that can be used for storing garden tools and other items when they aren't in use.
If you are running low on indoor storage options, adding a deck that creates an additional storage area outside is a great way to free up some much-needed extra space inside your home.
Added Value
Adding a deck to your home is an investment that can pay off in more ways than one. Not only does it create a cozy outdoor space where you can enjoy nature, but it also adds significant value to your own property value.
Decks provide additional living and entertainment space while increasing the overall aesthetic appeal of your home. When considering adding a deck to your home, think about its potential resale value.
Adding features such as covered patios, built-in seating or fireplaces will have aesthetic appeal decks that add further appeal for future home buyers, and result in higher appraisal estimates.
According to Remodeling magazine's 2020 Cost vs Value Report, adding a 16×20 foot wooden deck with stairs costs around $11,000-$12,000 on average. However, the report found that homeowners may recoup up to 75% of the cost of new deck upon the sale of the home. This is just one example of how a new deck can add significant value to your home.
Enhanced Appeal
A professionally designed deck can instantly enhance the beauty home value, and curb appeal of any property. From the traditional style to more modern designs, a properly built deck will add fresh air, character, and dimension to your home that you won't find anywhere else.
With a your deck offers wide variety of materials and colors to choose from, you can make sure your deck perfectly complements your home's architecture and has great aesthetic appeal. With an aesthetically pleasing outdoor space, your home will become even more appetizing to potential buyers in the event that you decide to put it on the market.
Adding a deck is also great for improving the overall look of your yard. Decks offer a higher elevation than patios or platforms for plants, furniture, and other landscaping elements, allowing you to create a unique and visually striking landscape. You can even customize your deck to make it unique, like adding built-in benches, planters, or storage compartments.
Having an outdoor space with a view of the surrounding area can also be great for entertaining guests outdoors on nice summer days. With all of these features in mind, it's easy to see how installing a professionally designed deck is one of the best ways to enhance the exterior appeal of your home.
Increased Safety
Adding a deck to your home is a great way to increase safety for both adults and children. Decks provide an ideal outdoor space for playing, entertaining, relaxing, and even cooking — all with the added bonus of being surrounded by sturdy railings away from hazards like pools, ponds, or other water features.
With elevated decks offering further protection from potential dangers on the ground below, they make a front yard space the perfect place for children and pets to safely play outdoors without worry.
Homeowners can also benefit from having an enclosed deck area for outdoor living areas that reduces the risk of accidents or injuries due to tripping over things left in the yard. This additional layer of security makes adding a deck to your home valuable not only as an additional living space but also as an extra safety measure.
Decks provide the perfect spot for hosting family gatherings host parties or other events. Whether your front room or deck design is large or small, it can serve as a safe and secure area for both adults and children to gather without making anyone feel confined.
You can even add additional features like stairs, ramps, and guardrails that may be necessary when hosting larger groups of people or outdoor games. With these added safety measures in place, you can rest easy knowing that everyone on your house or property is kept safe while enjoying the outdoors.
Adding a deck to your home not only becomes usable space and enhances add beauty to its aesthetic appeal but also boosts its safety factor exponentially — giving you peace of mind with every step taken outside.
Low Maintenance Design
One of the deck creates most attractive aspects is its low-maintenance design. With proper maintenance and upkeep, most materials used in deck construction are low-maintenance and durable enough to last many years.
Wood decks are generally easier to maintain than synthetic decking products, such as composite or plastic lumber. Pressure-treated wood requires occasional cleaning with soap and water to keep it looking new and fresh over time.
Composite cedar shakes will also require a yearly power washing (or every other year) with a mild detergent solution, while PVC or vinyl siding may need more frequent cleaning.
Synthetic decking materials often have a higher upfront cost than their natural counterparts, but their low-maintenance qualities make up for this. Many synthetic decks offer UV inhibitors that protect the surface and color from fading due to sun exposure, as well as mold, mildew, and water damage from rain or snow.
You can also choose a stainable composite material that looks like wood, without the need for staining or painting every few years.
Low maintenance design is one of the 5 great benefits of adding a deck to your home. It's an economical way many homeowners to get more living space outdoors while still looking beautiful and lasting for years to come!
FAQs
Is decking a good idea?
Yes, adding a deck is an excellent choice over other home improvement projects for anyone looking to upgrade their home. Not only can decks dramatically improve the value of your property and provide additional living space, but they can also create a perfect spot to entertain family and guests outdoors or simply enjoy nature in the comfort of your own backyard.
What do you need for a deck?
In order to build a deck, you will need the materials: treated lumber for the frame, decking boards of your choice, fasteners and anchors, railing kits, and other necessary tools. You may also want to consider waterproof sealants or stains to protect the wood from weathering over time.
If you plan on using electrical fixtures on a custom deck for lighting or entertainment, you should contact a licensed electrician to ensure your deck is safely wired.
Why is it called a deck?
The term "deck" originates from the Latin word decare, meaning to cover or protect. In the 16th century, decks were used on ships as a protective covering for the crew and equipment. Today, decks are more commonly used in homes as an outdoor venues for entertaining guests and enjoying nature in your own backyard.
What are the types of decks?
The two most popular types of decks are wood and composite. Wood is the traditional option for decks and can come in a variety of materials, such as cedar, redwood, and pressure-treated lumber. Composite decking is made from recycled plastic materials and has become increasingly popular due to its low maintenance requirements and durability.
What is the best deck size?
The best deck size will depend on your available space and how you plan to use it. If you intend to have more space to entertain guests or host events, a larger deck is suggested. However, if you're simply looking for a great place to relax in outdoors, a smaller deck may be just as suitable.
Conclusion
From a feeling of freedom to much-needed extra space, the benefits of adding a deck to your home's exterior front are undeniable. Not only will it create an inviting outdoor atmosphere, but it can also add significant resale value should you decide to ever sell. With appropriate maintenance and long-term durability, the advantages that come from building a deck are hard to overlook.