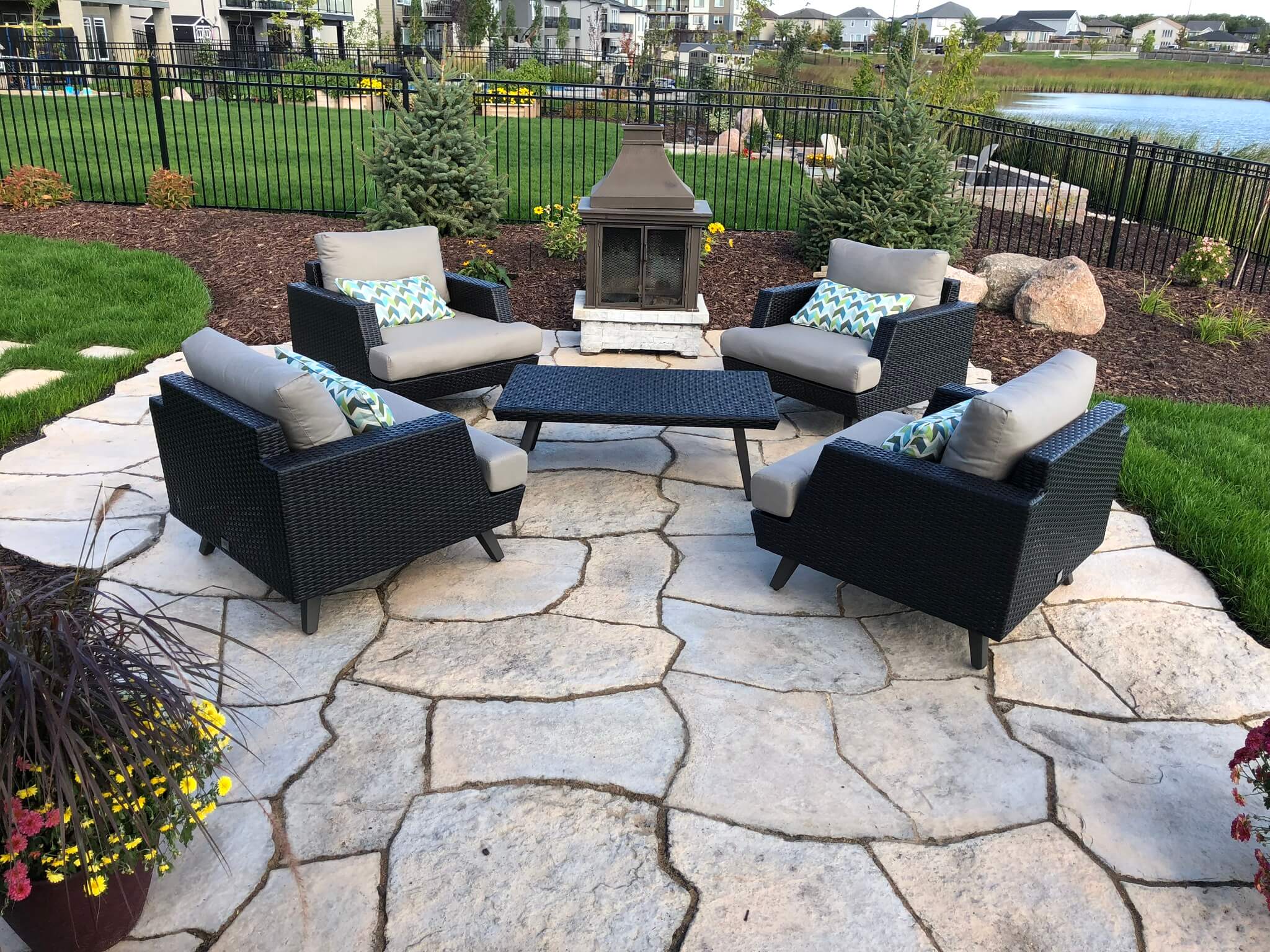 Have you always dreamt of having an outdoor space that is perfect for entertaining guests, an outdoor grill, soaking up the sun on a summer's day, or simply relaxing and enjoying nature? Now might be the time to turn your vision into reality!
A patio can provide you with much more than just another room in your home. When the backyard patio is designed properly it can become a multifunctional living area that provides social and recreational benefits to enjoy all year round.
As experts in creating stylish patios, we want to share our knowledge with you to get the most out of your new oasis – our backyard ideas so take a look at this blog post for some great ideas which will help transform your existing backyard space into an inviting haven.
Plan Your Patio – Consider the size and shape of your space, and how you want to use it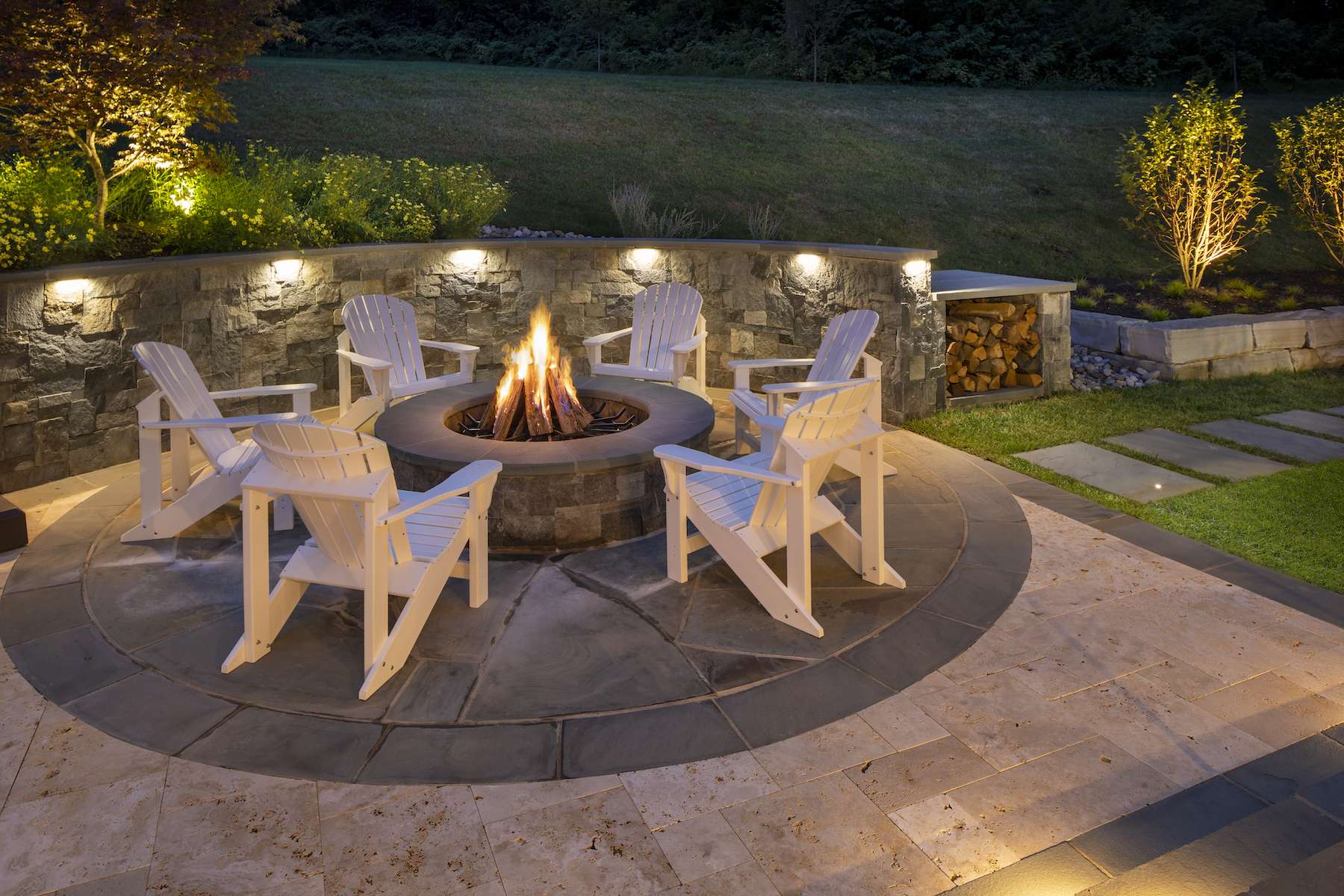 When starting to plan your patio, it is important to consider the size and shape of your space. To make the most out of your area take into account how you will be using it.
For example; if you plan on entertaining lots of guests then your patio should have enough room for plenty of seating and maybe even a barbeque or fire pit. On the other hand, if relaxation is a top priority, then making sure there's enough space to lounge in comfort is key.
The size and shape of your outdoor space may also dictate what type of outdoor features you can incorporate into your patio. Creating different areas with different materials such as stone slabs or decking can help break up larger spaces while smaller patios can benefit from incorporating built-in seating or other decorative features.
Creating levels, with steps, terraces, and planting can create exciting visuals and help to make the most of your area. Creating pathways with stepping stones can add a visually pleasing focal point that ties together different areas in your front yard and garden.
Choose The Right Material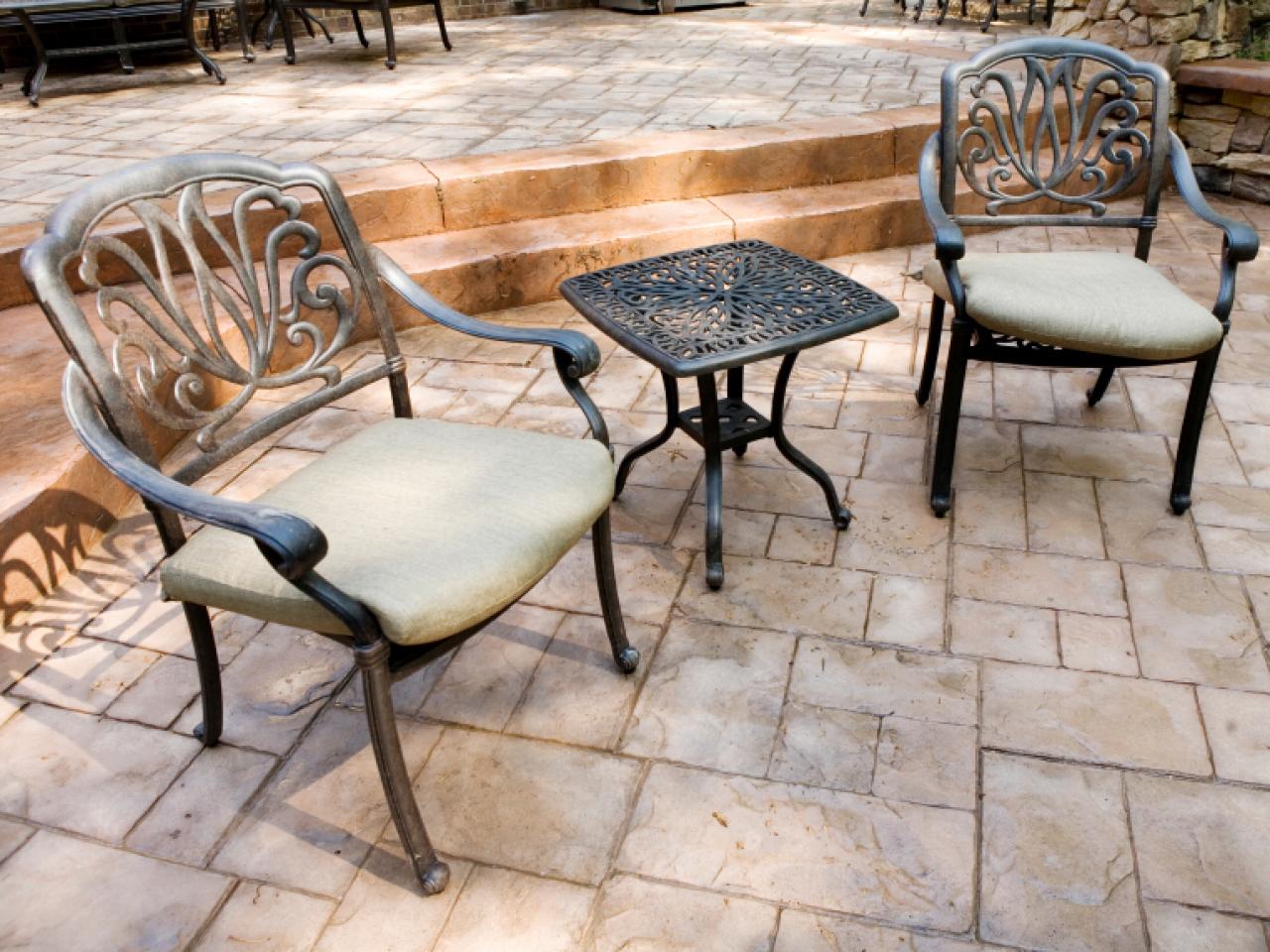 When deciding on the materials for your design process for the patio, you should consider how much time and effort you are willing to put into maintaining it. Different types of patios require different levels of maintenance, so if you don't want something too labor-intensive then make sure that you choose materials accordingly.
Concrete
Concrete is a popular option for outdoor patios because it can withstand all weather conditions and requires minimal upkeep. It's also highly durable and relatively inexpensive compared to other options such as stone or tile.
However, concrete does not have the same natural appeal as some of its counterparts which could be an issue depending on the design aesthetic you are aiming for.
Natural stone
Natural stone is a great choice if you're looking for a patio with a more sophisticated look. It has the benefit of standing up well against the elements and adds an extra layer of elegance to your outdoor space.
On the other hand, natural stone can be expensive, difficult to install, and requires regular maintenance in order to retain its beauty.
Tile
Tile is another great option for patios as it provides lots of flexibility when it comes to design – you have many different shapes, sizes, and colors to choose from. Tile is also easy to maintain; all you need is some warm water and detergent every now and then.
However, tile may not work as well if your backyard project patio will get heavy foot traffic or if you live in areas that receive significant rainfall throughout the year which could cause the tiles to become slippery.
Whatever material you decide on for your backyard patio, make sure to take into consideration the amount of maintenance you're willing to do and select something that suits your needs. With careful planning and a bit of work, you could have an outdoor space that you will enjoy spending time in for years to come,
Select and Add Furniture & Accessories
When selecting furniture for your patio, it's important to consider the type of space you are trying to create. For example, if you want a cozy area where people can relax and socialize, opt for comfy pieces like sofas or chairs with cushions.
If you're looking to entertain more guests while still having an intimate atmosphere, choose furnishings that come in multiple sections. For maximum versatility, go for pieces that are lightweight and foldable so they can be moved around easily.
It's also good to pick materials and finishes that will endure outdoor elements such as rain and sun. Opting for weather-resistant fabrics is key; think Sunbrella®, polyester, and olefin. Also, consider how much sun the space will get and how you want to control it.
Choose pieces with adjustable canopies or umbrellas that can provide shade when needed and be folded away for more sunlight in the winter months.
The right accessories can really transform an outdoor space into an extension of your home.
Here are some tips on choosing accessories:
Add decorative elements like planters, birdhouses, wind chimes, and twinkly lights; they'll add a bit of personality to the patio while keeping things stylish.
Go bold with colorful accents like pillows, rugs, and throws – they'll bring life to the area and keep it inviting regardless of the season.
Add a fire feature; it's an excellent way to create warmth and ambiance while creating a central gathering spot for friends and family.
No matter what kind of patio you want to create, with the right furniture and accessories you can turn your vision into reality! So get creative with dream backyard ideas and don't hesitate to mix materials, colors, shapes, and sizes – all these elements will come together to create something beautiful that is truly unique to you.
Get Creative with Lighting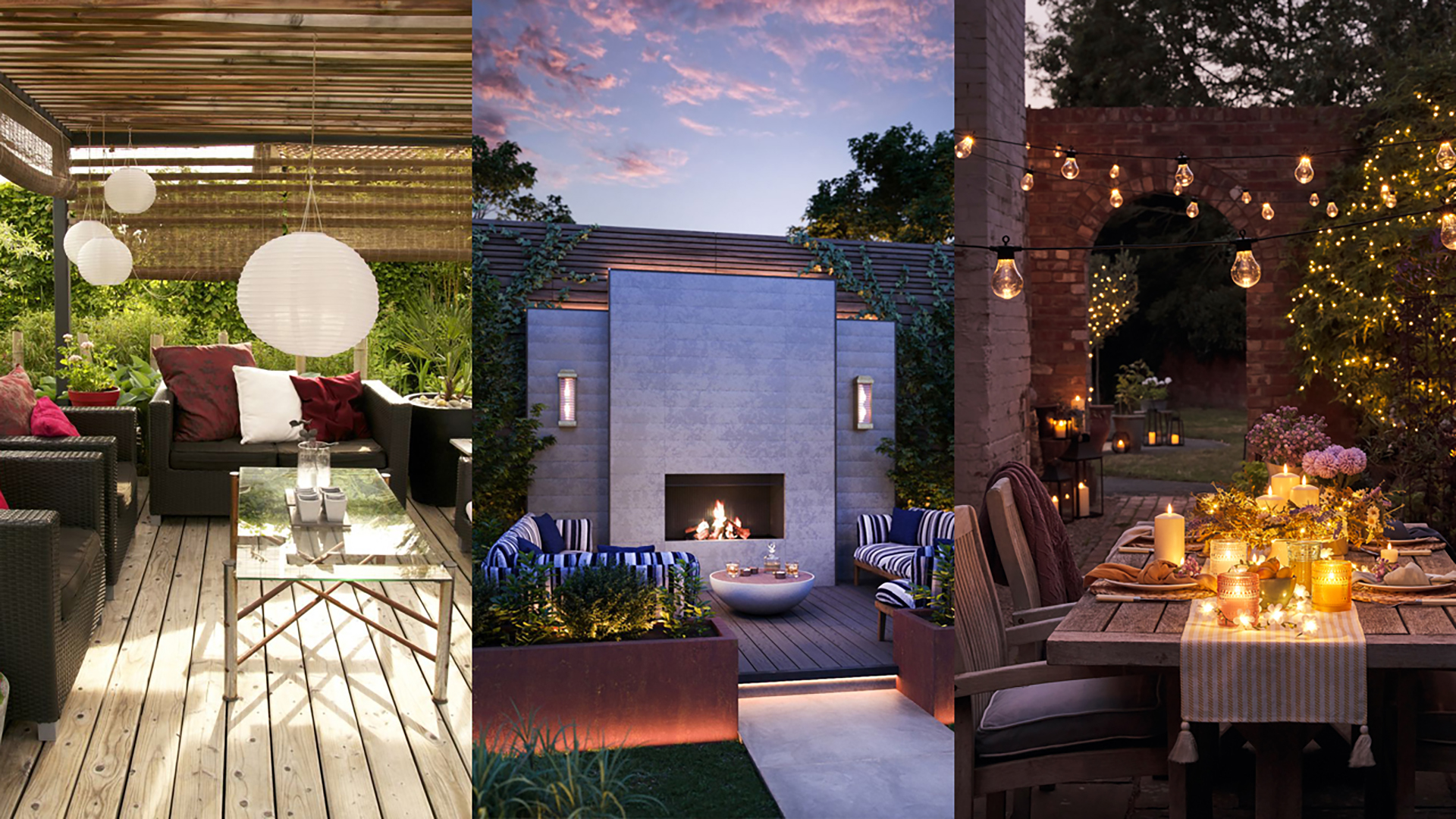 Lighting is a very important detail to consider when creating an outdoor space, as it can set the atmosphere and enhance your patio's visual appeal. Creating beautiful lighting on a budget is achievable with some simple solutions.
Incorporating solar lights or string lights into your patio design can provide you with great decorative effects without breaking the bank. Solar lights are a great way to light up any outdoor living room area.
Solar energy is not only cost-effective but also eco-friendly and easy to install. These types of lights come in all sorts of designs and sizes, allowing you to get creative with how you place them around your patio.
You may choose a classical pathway light pattern that leads towards your seating area or make a more whimsical arrangement with abstract shapes. Either way, you will be creating an inviting atmosphere for guests to enjoy.
Another idea that can add a cozy ambiance to your patio is string lights. These come in different sizes and colors, allowing you to create any type of look or feel for your outdoor space. You can hang them overhead or drape them around the furniture – the possibilities are endless.
String lights also provide enough light for small gatherings in the evening and can even help illuminate any steps or pathways leading up to your patio.
Incorporate Landscaping Elements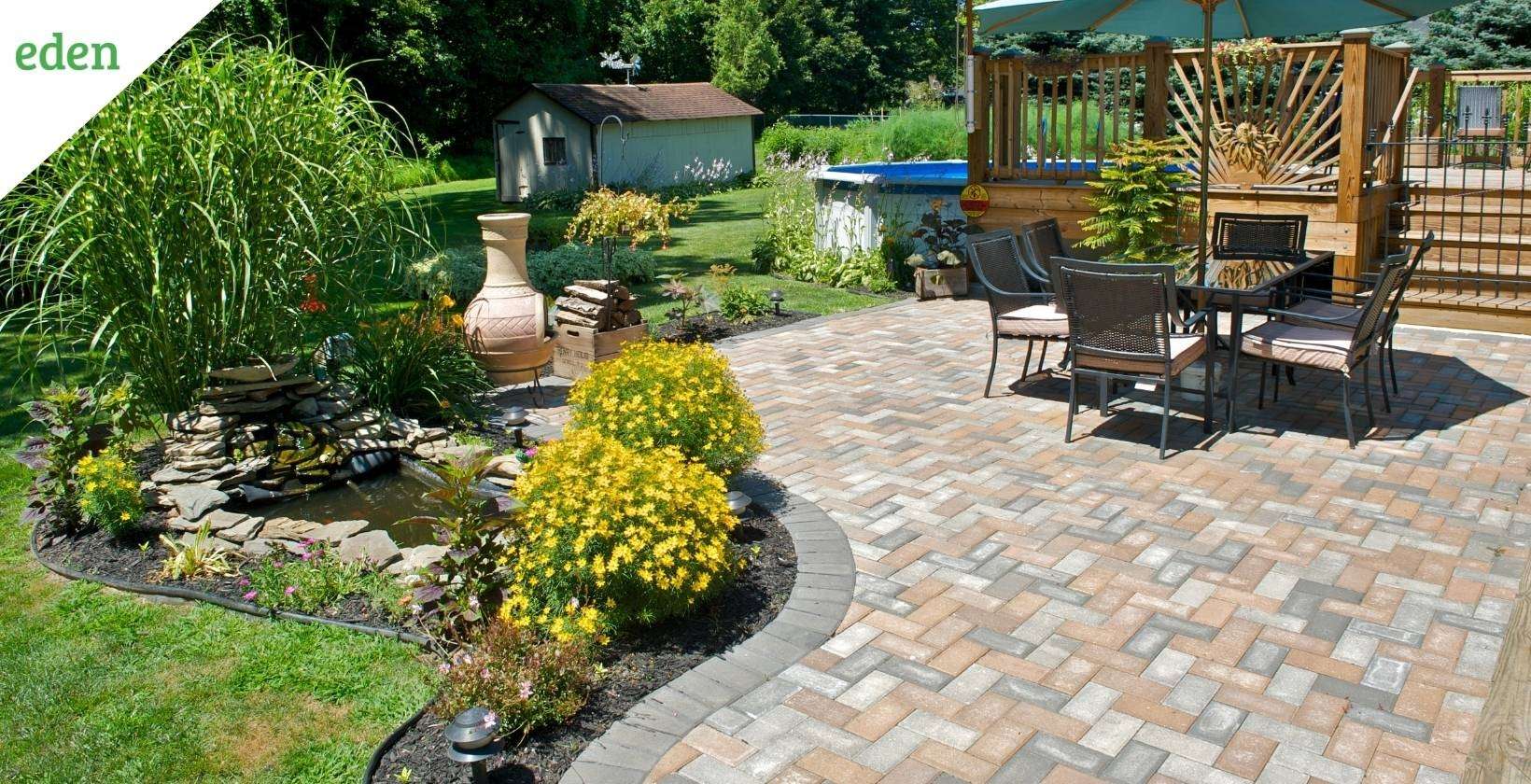 Creating a patio doesn't have to be limited to building a terrace or deck.
Incorporating landscaping elements such as trees and shrubs can really enhance your outdoor living space. Planting trees provide shade and visual interest, and also acts as windbreakers if strategically placed. Shrubs and groundcovers add texture and color to the area, while flowering plants provide a splash of seasonal beauty.
Creating garden beds filled with colorful annuals is not only beautiful but also provides protection from soils eroding away during periods of heavy rain. Lastly, adding pathways made out of bricks or flagstones creates a feeling of order and continuity throughout the entire area.
Another way you can spruce up your patio is by incorporating water features such as a pond or fountain. Not a water feature not only do these features add a unique touch to your patio, but they also provide calming and soothing sounds that can really set the mood for an evening of relaxation.
To complete the look of an outdoor area, incorporate accent lighting throughout the space with landscape lighting fixtures. This will create dramatic shadows that will make your outdoor living area feel both inviting and cozy at night.
With some creativity and planning you can turn any outdoor space into a stylish and functional place to entertain or simply relax outdoors. By incorporating landscaping elements such as trees, shrubs, flowers, pathways, water features, and lighting fixtures you can truly transform your backyard design your patio into a dream oasis.
FAQs
What is the easiest patio to the building?
The easiest patio to build is one that doesn't require any major excavation or construction work. If you already have a flat and level surface, such as your lawn or an existing paved area in your dream backyard, you can simply cover this with paving slabs or decking boards for an instant patio space.
What is the best base for a patio?
A good base for any patio is a layer of hard-core, such as road planings or gravel, topped with a layer of sand and then paved over. This type of base will provide a firm foundation that will stand up to foot traffic and last for years.
How much space do I need for a patio?
This depends on how you intend to use your patio. If it's a space for entertaining, then around 5-6m2 should be enough room for a small table and chairs. A larger area of 12-15m2 would be suitable for barbecues or outdoor parties.
What type of flooring is best for a patio?
The best type of flooring for a patio is one that is durable and weatherproof. Natural stone, such as slate or limestone, can provide a classic look but requires regular maintenance to keep it looking its best. If you're looking for an easier option, then porcelain tiles are a great choice as they are hard-wearing, fade-resistant, and easy to clean.
Composite decking is another popular choice as it requires minimal upkeep and comes in a range of colors and finishes. Whatever you choose, make sure it's suitable for outdoor use!
Why are patios important?
Patios offer a great space for outdoor living, providing a place to entertain guests or simply to relax and enjoy the outdoors. Creating a patio also adds value to your home, as having an attractive outdoor area can make your house or property more attractive to potential buyers.
Patios are also important for protecting against erosion and flooding in your garden, as the paved surface helps to divert water away from your home.
Conclusion
Whether you want a simple and stylish design for your ultimate backyard or an elaborate outdoor living space, it's important to remember these essential tips – make sure you plan the size and shape of your patio, select the right material, choose furniture and accessories that fit into your aesthetic/functional needs, add interesting lighting elements and incorporate landscaping to complete the look.
With these helpful tips in mind, you can turn your patio into a backyard haven and a beautiful oasis just in time for summer.