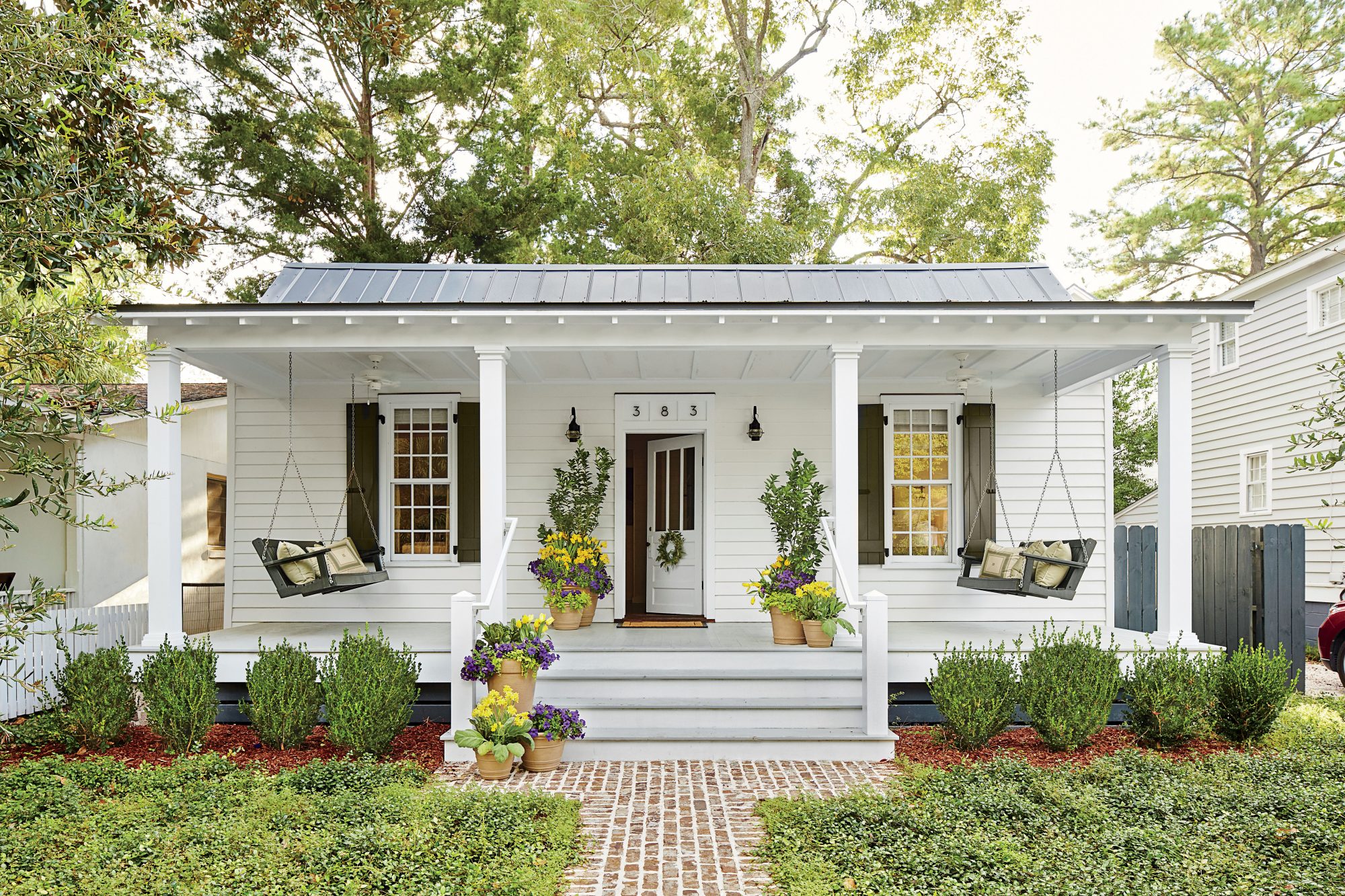 Are you looking to take your outdoor living space up a notch? Whether you're just starting out or want to spruce up an existing porch, look no further. Here is the ultimate guide on designing the perfect porch from experienced industry pros!
In this blog post, we will walk you through tips and tricks to elevate your design, find new inspiration for renovations, and get the most out of this special addition to your home.
Don't miss out on the best advice, making your view outside as pleasant as possible – with just a few savvy changes here or there it can make all the difference when hosting guests or spending time outdoors yourself.
Invest in the Right and Quality Materials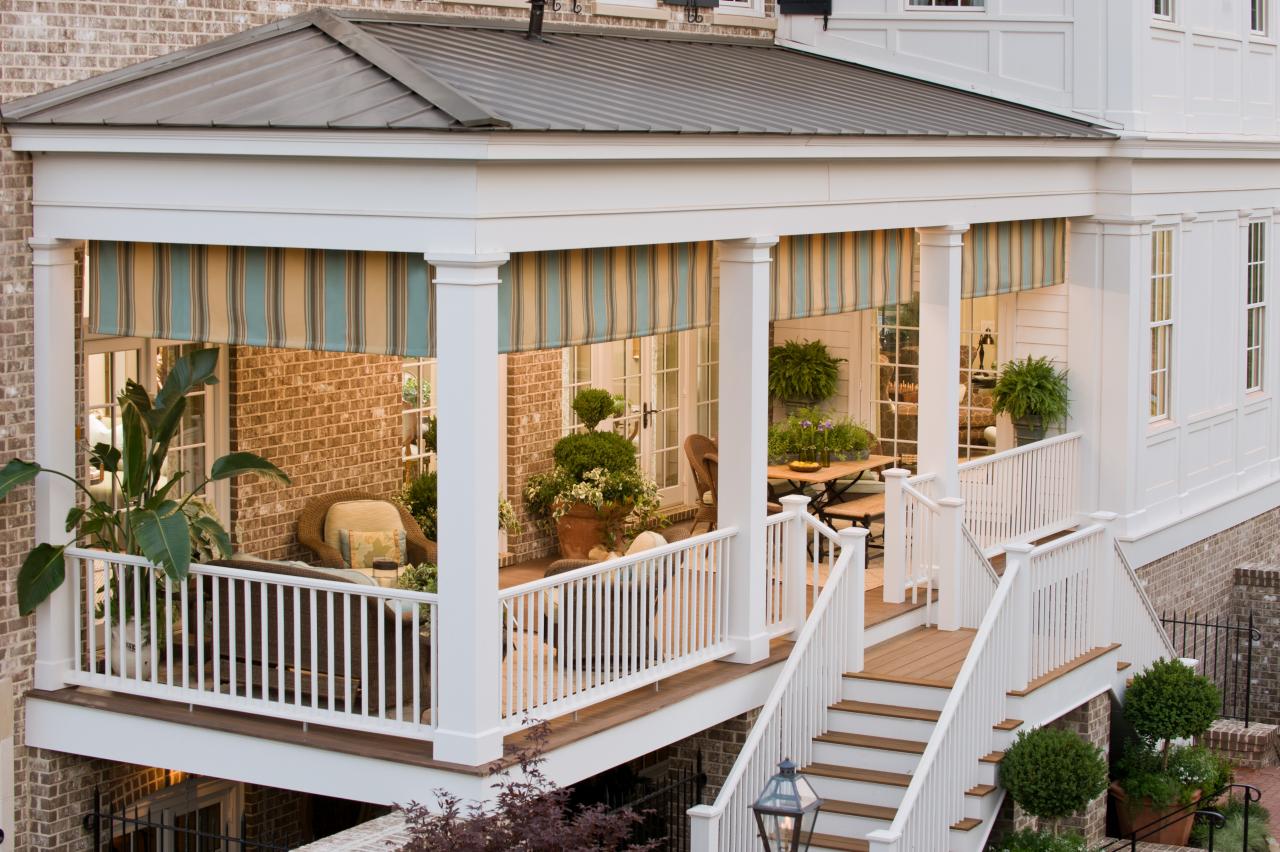 When it comes to designing the perfect porch, investing in the right and quality materials is essential for a successful renovation. Not only does this ensure that your outdoor space looks great for years to come, but also provides better protection against the elements.
Choose durable materials such as pressure-treated wood, composite decking, or aluminum railings. These materials are not only more resistant to extreme weather conditions like heavy precipitation and sun exposure, but they can also give your porch a much-needed facelift.
Right and durable materials in combination with proper maintenance will not only help your porch stay strong but also increase its lifespan. Consider using rust-resistant coatings to protect metals from weathering, and treat wood with a water-proof sealant to make it more resistant to moisture.
It's important to check on these materials regularly and make sure they are in good condition so you don't have to worry about any costly repairs down the line.
Take the time to find materials that fit your design aesthetic and outdoor décor style. Design elements like different types of railings or flooring can add a unique look and feel to your outdoor space while still providing the necessary durability.
Create a Cozy Seating Area
Whether you're looking for an inviting place to host guests or just want to relax outdoors on your own, it's important to spend enough to choose suitable furnishings as a statement piece that makes the most of the space and provides optimum comfort.
When selecting furniture for your coffee table or your porch seating area, keep in mind that there are endless possibilities. Consider choosing pieces with classic lines and durable finishes – wood is timelessly stylish and extremely versatile for both indoor and outdoor use.
Wicker, rattan, metal, or plastic also offer long-lasting options that can be adapted to fit a range of interior and exterior designs. You can also add a porch swing for a more cozy environment.
Comfortable and stylish cushions and pillows are also essential for creating an inviting patio atmosphere. Choose from a variety of fabrics to coordinate with your furniture, as well as colorful patterns if you're looking to add some personality to the porch.
Utilize Color and Pattern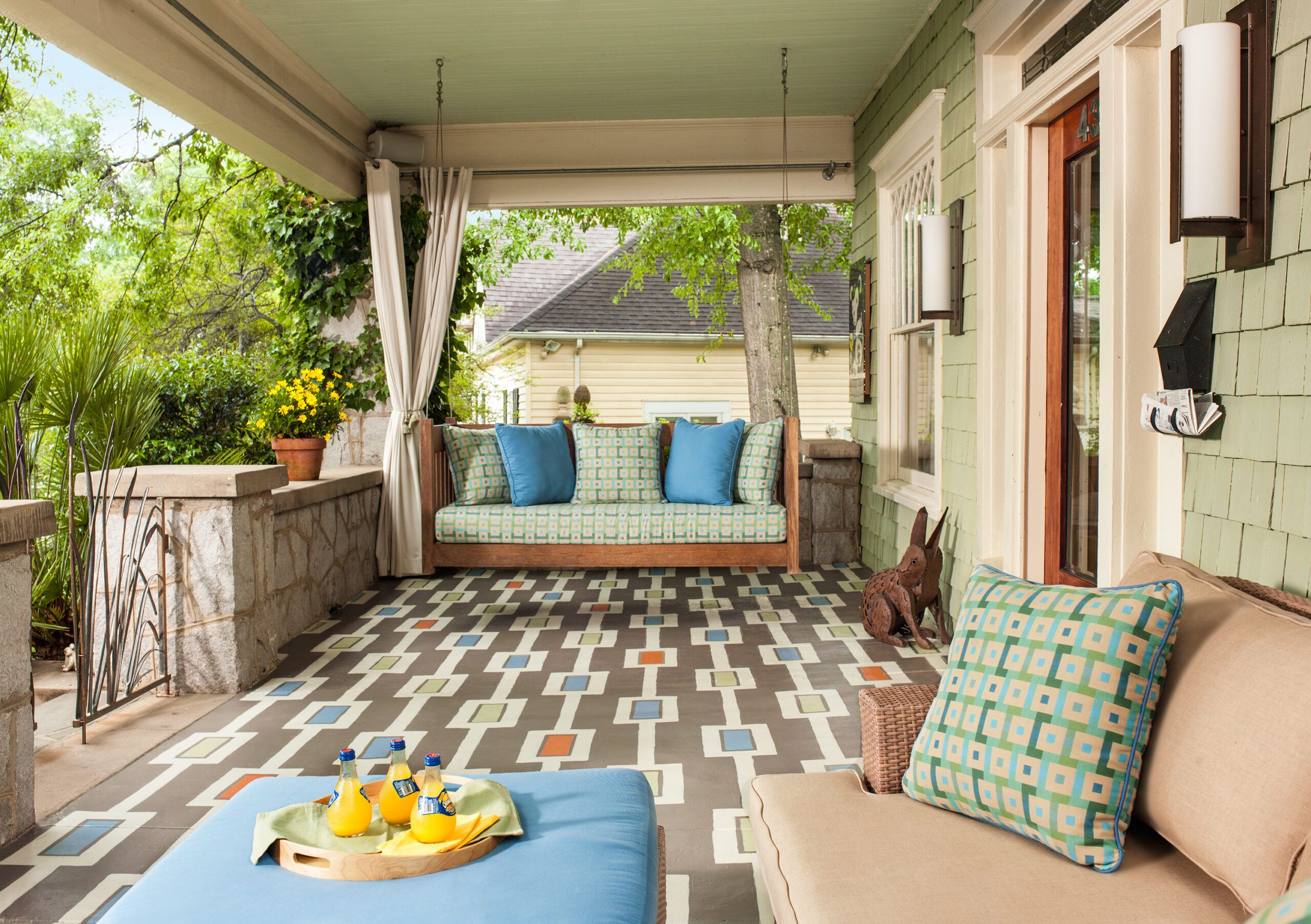 Invest in decor pieces that will bring your vision to life and make sure the colors enhance the natural elements around you. There are countless ways to add color and pattern to your outdoor space.
Bring out bright pillows in woven fabrics for an added layer of comfort or hang bold curtains to create an intimate feel.
Designing the perfect porch is all about finding the right balance between sophistication and accessibility – be sure not to overdo it with too many patterns or colors! Incorporating furniture can also help add color and personality to a perfect space.
Consider adding a bench or chairs in patterns and colors that coordinate with the overall design. Be sure to take into account the size of your porch when selecting furniture – you don't want it to look too crowded! Designing the perfect porch doesn't have to be difficult, but it does require careful consideration.
Utilizing color and pattern is an excellent way to add interest and personality to a small space – get creative and have fun with it! With these tips from experienced industry pros, you are sure to create a space that will be enjoyed for years to come.
Add Lighting Elements
Lighting is one of the most important elements when designing the perfect porch. Not only does it provide safety by preventing falls, but it can also give your outdoor space a more inviting atmosphere. When deciding on lighting for your porch, think about both practical and aesthetic needs.
Path lights are a great way to light up walkways and stairs leading to your porch while still creating an ambient effect. You can find these in various shapes and sizes to best fit the look you're going for.
For smaller porches or those without much space, recessed lighting is a great option as it takes up minimal space.Accent lights such as string lights or lanterns help brighten up any space, giving off a romantic and cozy vibe.
For a more modern look, consider installing an activity lighting system. This type of system allows you to control the brightness or intensity of the lights with a click of a button, giving you more control over how your house or porch looks in different settings.
You can also add motion sensors so that the lights will turn on when motion is detected for added convenience and safety.
No matter what style you're going for, make sure to properly install any lighting elements according to manufacturer instructions and local regulations for the best results. With outdoor lighting, it's all about creating the perfect balance between practicality and aesthetics – don't be afraid to spend time experimenting with different combinations until you find just what works for you.
Create Privacy or Shade
Privacy and shade are essential elements for a successful outdoor living space. Designing outdoor living spaces and the perfect porch starts with these two components in mind to ensure that your large windows, open walls, and other designs allow you to relax without feeling exposed to the outside world.
There are multiple ways to create privacy while also providing a bit of shade from the sun's rays during summer days.
Adding screens or curtains around your outdoor seating area can be used to create an intimate setting while still allowing those inside to enjoy views of the outdoors.
Trees, trellises, and fencing are great solutions if you want something more permanent as they will provide cover year-round while also adding character and charm to any porch design.
If you're looking to make your porch more private but don't want to block the view, you can opt for a smaller-scale solution such as hanging potted plants that can be moved around as necessary.
Shade is also an important element in creating a comfortable outdoor space in the summer months.
Adding outdoor umbrellas or pergolas will provide much-needed coverage from the sun's harsh rays and keep your guests cool during those long days outdoors.
If you're looking for something more permanent, consider adding an arbor or trellis with some vines growing up as this can add natural shade while also providing beautiful greenery throughout the year.
Incorporate Landscaping and Greenery
Designing a porch should include adding elements of landscaping to your outdoor living space. Not only does this help add more life and texture to the area, but it also helps create a sense of privacy and seclusion from neighbors, passersby, or the street.
Depending on how large the porch is, you can opt for larger trees planted in pots or smaller shrubs that are tucked away in corners under tables, or along edges. Other options could be hanging plants around railings, flower boxes below windowsills, or a climbing vine near trellises/arches.
If you're worried about upkeep due to lack of time or resources, artificial plants may also be an option – though these will require minimal maintenance compared to real ones.
Tying in elements of landscaping and greenery can create a beautiful atmosphere outdoors, even if you don't have much of a green thumb! Designing an aesthetically pleasing porch should always start with figuring out what plants work best for the space you have.
Talk to your local garden center about the types of flowers and trees that do well in your region and climate. Planters are also great for smaller spaces or balconies as they provide ample flexibility with size and shape while still allowing you to get creative with the design.
Make sure to plan ahead when looking into greenery – you will want to consider how much light and water the plants that you're looking into need. Designing a deck or porch can be a fun process but also make sure to factor in these necessary details so that your outdoor living space stays beautiful for longer!
FAQs
What are some of the most important factors to consider when designing a porch?
The most important factors to consider when designing a porch include the size and orientation of your space, the type of materials you will use for construction, landscaping options for maximizing privacy and creating an inviting atmosphere, as well as key functional features such as lighting fixtures, furniture placement, and storage solutions.
What are some of the latest trends in porch design?
The latest trends in porch design include the incorporation of sustainable materials, such as bamboo and composite decking, as well as unique features such as outdoor fireplaces and water features. Designers also recommend adding, a freestanding deck and accent lighting to create an inviting atmosphere after dark.
Choosing a neutral color palette for furniture and accessories is becoming increasingly popular due to its versatility.
What are some tips for decorating my porch for different seasons?
For the winter months, consider adding festive garlands and wreaths, while outdoor furniture with cozy blankets and cushions will add warmth during the summer months. Adding plants and flower pots are also great additions that can be changed out seasonally for a fresh look. Lighting fixtures such as string lights or lanterns are perfect for creating an inviting ambiance in any season.
Don't forget to keep your front porch always clean and organized – this will ensure your space looks its best no matter the season!
What are some of the best ways to keep my porch clean?
The best way to keep your porch clean is by regularly sweeping and mopping the floors, wiping down any furniture with an appropriate cleaner, and removing any dirt or debris. If you have an outdoor rug or furniture cushions, these should be washed periodically to prevent the buildup of dirt and dust. If you have potted plants on your porch, be sure to check the soil levels frequently and water them as needed.
Make sure to inspect your porch for any signs of damage caused by weather or pests – this will help ensure that your outdoor space looks great year-round!
Conclusion
With these tips and tricks from the pros, you now have the right tools to embark on a great porch renovation journey. You can create an outdoor space that both looks great and adds value to your home. Utilize quality materials like wood or aluminum railings along with a cozy seating area, add color and pattern in furniture cushions and curtains, utilize lighting elements such as string lights, install curtains or optional shades for privacy, and incorporate landscaping features.