For many homeowners, deciding between do-it-yourself (DIY) building and hiring a professional can be intimidating. To ensure you get the best results for your project, it is important to understand what each option brings.
Whether you choose to take on deck, porch, and patio building yourself or opt for a professional's experience and expertise depends on several factors such as budget, skillset capacity of those involved in the job, location, and overall build complexity of outdoor space.
Discover what DIY vs. Professional Deck Building means when deciding which route is right for you!
Pros and Cons of DIY Deck, Porch, and Patio Building
Regarding the DIY decking, porch, and patio building, there are pros and cons.
Pros of DIY Deck, Porch, and Patio Building
DIY projects can be a great way to save money. DIYers don't need to pay professional labor and can often purchase materials in bulk or at discounted prices. DIYers also can customize their deck, porch, or patio according to their taste and needs.
DIYers typically have more control over their project timeline than they would with a professional contractor. DIYers can work on the project when it's convenient for them, and they can take as much time as needed to ensure that all aspects are done correctly before moving on to the next step.
DIYers also get hands-on experience with woodworking tools and techniques, gaining valuable skills that could be useful for future DIY projects.
Cons of DIY Deck, Porch, and Patio Building
DIYers may lack the specialized knowledge and experience to construct a safe, stable deck, porch, or patio. DIYers may make mistakes leading to structural issues without proper knowledge and training.
DIYers must obtain all their materials and supplies, which can add up quickly. This is especially true if they cannot access bulk discounts or used materials sources.
DIYers should consider the substantial time commitment of DIY deck, porch, and patio building projects. Even relatively small projects can take weeks or months to complete, depending on the DIYer's skill and level of dedication.
A DIY deck, porch, and patio building can be an excellent choice for DIYers with the time, knowledge, and resources to do the project correctly. However, hiring a professional contractor is probably the best option for those who don't feel comfortable tackling such a large project alone—or don't have the time or resources.
Pros And Cons Of Professional Deck, Porch, And Patio Building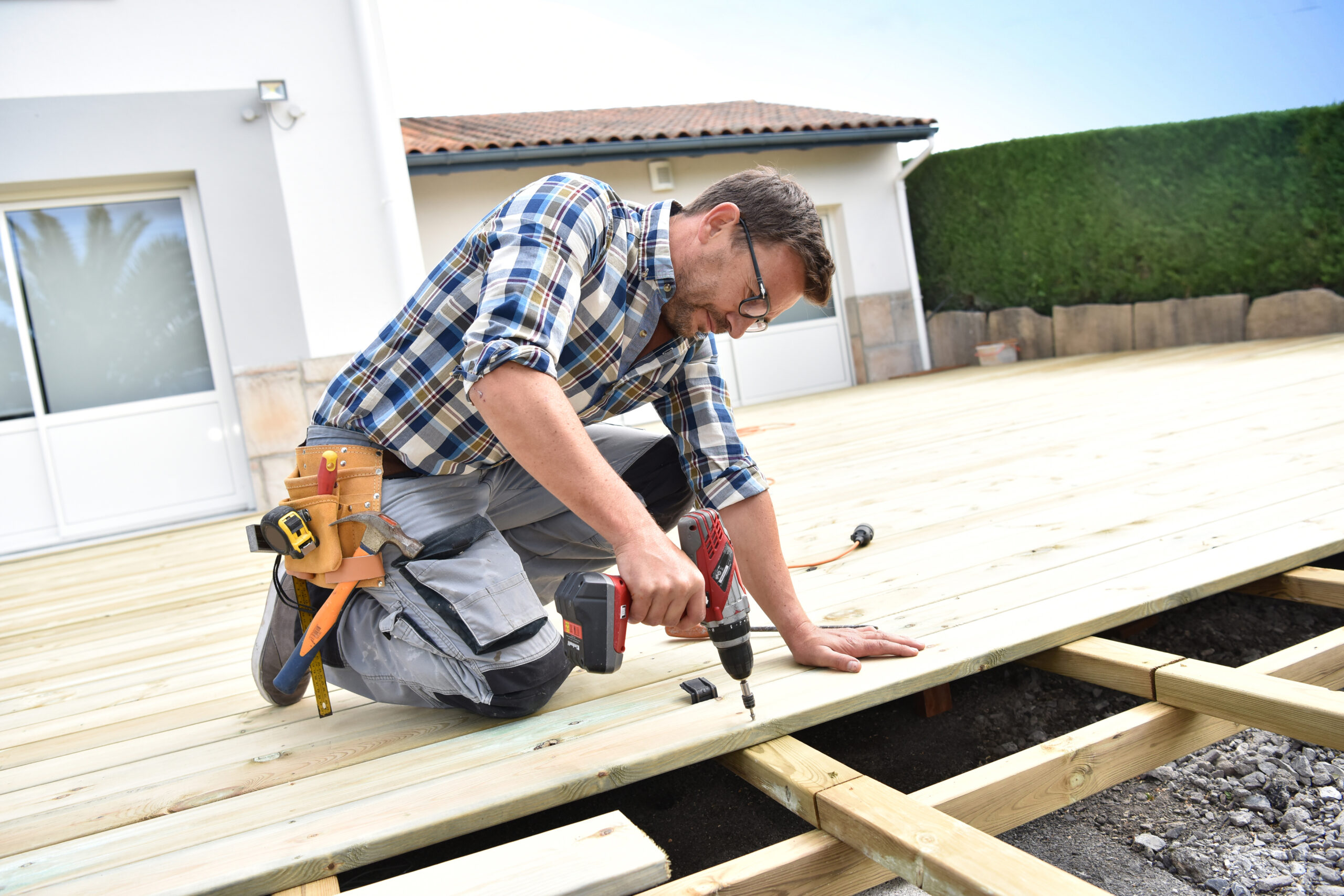 Building a DIY deck, porch, or patio can be an exciting and rewarding experience. DIY projects allow homeowners to express their creativity while adding value to their homes. However, DIY projects also come with risks – inexperienced DIYers may spend more money in the long run if they aren't careful.
On the other hand, professional deck, porch, and patio buildings can provide various benefits but can often be more costly than DIY backyard projects.
Pros of Professional Deck, Porch, and Patio Building
"Professional deck builders, porch, and patio builders have the experience and expertise to ensure your project is built correctly and with high-quality materials.
A professional builder can help you design a custom space that reflects your lifestyle and budget.
They can build complex structures that DIYers may be unable to complete independently due to a lack of experience or resources.
Professional builders know local building codes and requirements, ensuring that your outdoor living space meets these regulations and remains safe for years.
Hiring a professional also removes much of the stress associated with DIY projects; professionals take care of all the details, leaving you free to enjoy the finished product.
The cons of the professional Deck, Porch, and Patio Building
They can be more expensive than DIY projects due to the cost of materials and labor.
Hiring a professional can take longer to complete a project than DIYing it yourself.
Professional builders may not be available during certain times or areas, so you may need to wait for them before your project can begin.
Professional builders also bring their style and vision, which may not align with yours; DIYers have more control over the design of their outdoor spaces as they can customize it however they please.
Considerations When Choosing Between DIY or Professional Installation
Depending on your needs, DIY or professional installation may be best for deck, porch, and patio building projects. To make an informed decision, consider the following:
Budget
DIY projects typically cost less than hiring professionals, as you do not pay labor costs; however, DIY build materials can sometimes be more expensive than when you purchase in bulk for a professional job.
Skillset Capacity of Involved Parties
Do you have the necessary skill set for DIY building? DIY projects require patience and accurate measurements, so it is important to assess your skills before taking on such a project. Alternatively, if you choose to hire professionals for your project, you ensure that it is done correctly from start to finish.
Overall Build Complexity
DIY projects often require a lot of time and effort, so it is important to consider how complex the build may be. If your project requires specialized tools or additional help, DIY building may not be your best option. On the other hand, professional installation can get even complicated builds done quickly and efficiently, with no need for special equipment or extra help.
Necessary Permits Or Local Regulations
Before starting with deck materials, it would be best to research any necessary permits or local regulations that may affect your DIY or professional deck-building project.
When choosing between DIY and professional installation for your deck, porch and patio building project, multiple factors come into play, such as budget, skillset capacity, and complexity of the structure to build.
Considering your individual needs can help you make the right decision and create something for yourself! And no matter what path you choose, DIY or professional installation, you can enjoy your new deck or patio for many years with the right preparation and care.
Safety Tips for DIY Projects
DIY projects can often be a great and rewarding experience for homeowners, but you must take proper safety and maintenance measures to ensure the project is carried out safely. Here are some tips to keep in mind when DIYing:
Always wear protective gear like gloves, safety glasses, hard hats, and dust masks while working on DIY projects. Ensure all power tools are unplugged while not in use, and never work with sharp objects or machinery without adult supervision.
Be aware of your surroundings and test any connections or circuits before attempting repairs. If unsure about something, seek professional help or advice before proceeding.
Take extra precautions when working at heights. Wear a harness and use proper techniques such as a ladder or scaffolding supports.
Always use the right tool for the job and inspect any DIY projects periodically to ensure they remain secure and safe.
Stay alert when working on DIY projects, be aware of your environment, and take frequent breaks to avoid fatigue or exhaustion.
Following these safety tips will help increase efficiency in DIY projects while maintaining a safe working environment for yourself and others around you.
What to Look for in a Professional Deck Builder
Before hiring a professional deck builder, there are several factors to consider.
First, you should ask for references from previous clients who have worked with the contractor. Doing so will show you how well the contractor communicates and delivers results as promised.
Checking the contractor's license and insurance coverage before making any commitments is important. This will help protect both parties involved if something goes wrong during construction or in the event of property damage due to negligence or faulty workmanship.
It's important to research and compares contractors regarding cost and services provided. Often, the lowest bid does not guarantee the best quality work, so read through each contractor's proposal thoroughly before making any decisions.
Tips For a Successful Project, Whether You Go DIY or Professional
Certain tips for DIY or professional deck, porch, and patio building projects can help ensure you get the best results. Regardless of whether you choose to DIY or professional workmanship, these tips should be kept in mind:
Get an Assessment and Quote –
Before starting your project, ensure a full assessment of what needs to be done and accurate quotes for materials and costs. DIY builders may require additional inspections and professional consultation to confirm their plans comply with local building codes.
Consider Your Skillset
DIY deck project projects are great for DIYers with the time, energy, skill set, and experience required for successful completion. Professional deck building is recommended if you lack such skills or do not have DIY experience.
Proper Permits
When it comes to DIY deck construction projects, understand the rules and regulations for a particular city or locality before starting any work. For professional deck-building services, your chosen contractor should be familiar with local code requirements and obtain all necessary permits for the project.
Quality Materials
Regardless of DIY deck contractors or professional deck-building services, using quality materials is essential for long-lasting results. Research material options and choose one that best fits your budget and needs.
Test Your Project
After completing any DIY or professionally built decks, patios, and porches, test them thoroughly before use to guarantee they are safe and up to your standards.
Whether you DIY or hire a professional to build your own deck out, porch, and patio, keeping these tips in mind will help ensure a successful project. With the right materials and processes in place, DIY building can be rewarding, while using professional services is often more efficient and cost-effective in the long run.
FAQs
What is the cheapest way to build a porch?
DIY building is generally the cheapest way to build a porch, as it eliminates labor costs. DIY house projects require fewer materials than professional construction and can be completed quickly.
How do you know if your DIY project is a good candidate for successful completion?
The DIY route is a good and affordable option if you have experience in deck, porch, and patio building. DIY projects require DIY-ers to be well-versed in the basics of carpentry, materials, and tools needed for the job. If basic DIY skills are not already known, it may be beneficial to hire a professional who can ensure quality workmanship
What are common mistakes people make when building a deck, porch, or patio?
Common DIY mistakes include not verifying building code compliance or building permit, incorrectly measuring the area for construction, and mixing materials that don't work well together. Inexperienced DIY-ers may underestimate the project's complexity or overestimate their skill level, leading to costly repairs.
How can you avoid making these mistakes?
DIY-ers should research the project thoroughly before starting, which will help avoid costly mistakes in the long run. DIY-ers should regularly inspect their work and enlist the help of an experienced hand when needed.
With careful planning and attention to detail, DIY deck building can be a rewarding and successful experience!
How can you get the most out of your deck, porch, or patio, whether you DIY or hire a professional?
Whether DIY or professionally built, installing a deck, porch, or patio should be designed and constructed with safety in mind first. You should understand the local building codes and consider all aspects of the project from start to finish.
It is also important to select materials that are appropriate for your space and climate, as well as durable and aesthetically pleasing.
Conclusion
The choice is yours when deciding between DIY and Professional Deck, Porch, and Patio Building. Consider your skill set and financial budget when planning your project. Only attempt to build a deck or DIY project if you have all the tools and skills to complete the work safely. If you hire a professional contractor, look for someone with experience and references.