Create a cozy oasis right in your own backyard! If you are looking for ways to relax outdoors, consider transforming your porch into an inviting and functional space.
From adding seating and lighting to artfully arranging décor – the possibilities of how you can transform outdoor living spaces or your porch into a private retreat are endless.
Whether you long for a peaceful escape from your daily hectic life or whether you prefer social gatherings with friends, this post will provide all the tips, tricks, ideas, and inspiration needed to create the perfect outdoor living space just for you.
Transform Your Porch into a Cozy Outdoor Retreat
Porches can be a great place to relax and unwind after a long day. With some thought, creativity, decor, and a few touches here and there, your porch can be transformed into the perfect comfortable and inviting outdoor living space for you to enjoy.
Choose the right furniture and seating to create a comfortable space
Choosing the right furniture and seating is essential when transforming your porch into an outdoor retreat. Depending on how you plan to use the space, select pieces that are both functional, stylish, and inexpensive materials.
Consider choosing furniture with all-weather materials so they will withstand any type of weather and last longer.
For a cozy spot to relax in the sun, opt for comfortable cushioned chairs or loungers. If you plan to entertain guests or host gatherings, consider adding multiple seating options such as benches, outdoor table, armchairs, and loveseats.
To maximize the amount of space available for seating, opt for a sectional sofa that can be easily configured to fit small, open porches, and larger patios and outdoor rooms alike!
Another great way to utilize your porch's space is to invest in a foldable table or side table for outdoor activities.
Incorporate Lighting To Add Ambiance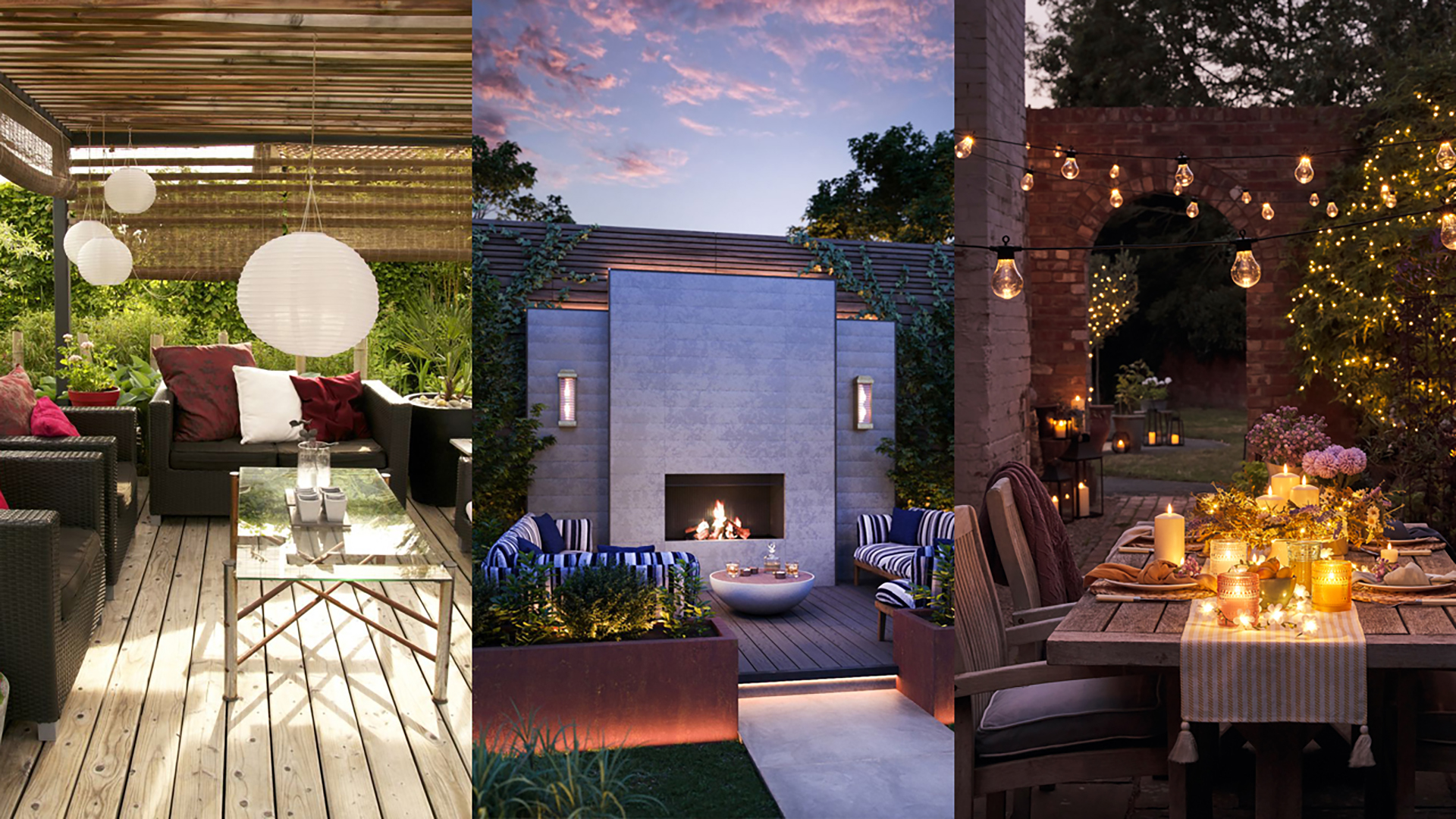 Lighting is a great way to add ambiance to your outdoor space. There are many lighting options available, from string lights and hanging lanterns to solar-powered lighting fixtures.
String lights can be hung from the ceiling or on an existing structure in your backyard, while lanterns can be placed around the perimeter of the area.
Solar-powered lighting is an economical option that will brighten up your space without adding any extra cost to your electricity bill. Consider adding a dimmer switch so you can adjust the brightness of your lights depending on the time of day and what type of atmosphere you're looking for.
Whether you prefer a soft glow or bright lighting, incorporating lighting into your outdoor retreat will help set the mood and create a peaceful oasis.
Aside from string lights and lanterns, consider incorporating uplighting fixtures into your outdoor living space. Uplights are small electric lighting fixtures that can be used to add dramatic effects to trees and other features in your backyard. They will create a stunning focal point for entertaining or just add an extra touch of ambiance to your private escape.
Transform the look of your porch with these easy-to-install lighting solutions for a cozy, inviting atmosphere you'll love all year round.
Don't forget about the candles! Candles are a great way to add warmth and elegance to any outdoor, coffee table or living area. Place them around the perimeter of the space or on tables throughout the area for a low-cost, beautiful lighting solution.
Make sure to choose outdoor-friendly candles so they don't go out in the cooler weather or the windy fall evenings and always keep an eye on them while they're lit.
From string lights to solar-powered fixtures, incorporating lighting into your outdoor living space is a great way to add ambiance and turn it into an inviting oasis. Transform your porch with these easy tips and get ready to make memories that will last a lifetime!
Create an outdoor rug area to add texture, comfort, and character to the space
Transform your porch into a cozy oasis with an outdoor rug area! Adding texture, comfort, and character to your space is key to creating the most inviting atmosphere possible.
Outdoor rugs come in sizes large and small, so you can customize your porch to fit any size or style preference. Whether you opt for a bold pattern to bring the bright colors out of outdoor furniture, or subtle colors and textures that will blend elegantly into the scenery, there are plenty of options available to create a unique look.
When selecting an outdoor rug, consider these factors: quality materials such as polypropylene fibers are ideal for weather-resistant properties; colorfastness to maintain vibrancy; and UV protection against fading from sun exposure. Consider the area of your porch to determine the size and shape of the outdoor curtains and rug you will need.
Outdoor rugs can also be used to define different seating arrangements or lounge areas in an open-air space. Consider pairing different colors and textures together for a more eye-catching look, or use one rug to tie multiple seating arrangements or pool area together.
Transform your porch into a cozy oasis by creating unique and inviting outdoor spaces, with outdoor rugs that have both function & style.
Put up wind-chimes or other outdoor decorations such as birdhouses
Transform your porch into a cozy oasis with the addition of wind chimes, birdhouses, and another outdoor décor. Wind chimes are an excellent way to add a peaceful atmosphere to any outdoor space, while also bringing a certain aesthetic charm. They come in all kinds of sizes, shapes, and materials depending on your personal preference.
For example, you might choose bamboo or metal wind-chimes for their calming sound effects or you could opt for colorful glass pieces if you want to make more of a statement.
Birdhouses allow for easy access to food and shelter for birds that visit your backyard. There is nothing quite like watching the variety of birds flocking around looking for snacks in the morning! You can find birdhouses in all shapes, sizes, and styles to complement your outdoor décor.
You may even choose to make a birdhouse of your own for a DIY project that is sure to be unique!
Don't forget about another outdoor décor like planters, garden gnomes, or decorative sculptures. These can add a splash of color and texture to any porch or backyard. With the right combination of decorations, you can create an inviting atmosphere that will make you never want to leave.
Add colorful plants and flowers for a pop of color
Adding colorful plants and flowers to your porch is a great way to create an inviting, relaxing, cozy oasis, especially in summer blooms. Choose bright hues that will make the space feel alive and vibrant, or opt for soft pastels if you're looking for more of a soothing ambiance.
Consider picking up some potted plants or hanging baskets of flowers, as these can easily be moved around the yard depending on the look you're going for. If you have limited space, try adding ivy along the side tables and railing or climbing vines up trellises.
You can also add planters with succulents and other low-maintenance plants that don't require too much effort to maintain throughout the year. No matter what kind of plants you choose for your outdoor living space, they will instantly add a touch of life and color to your outdoor room.
Adding colorful plants to your porch also provides numerous functional benefits. Not only do they look great, but they can help purify the air around you and provide much-needed shade in sunny areas. Certain flowers are known to attract pollinators such as butterflies and hummingbirds, which can be a fun addition to your outdoor area.
You can even plant herbs or vegetables if you're looking for more practical use! Whatever plants and flowers you choose to include in your backyard oasis, make sure they're suited for the local climate or environment so that you don't spend too much time worrying about their upkeep.
With the right combination of colorful plants and flowers, you can easily transform your porch into a beautiful, cozy outdoor retreat.
FAQs
What is a free-standing porch called?
A free-standing porch is typically referred to as a pergola or gazebo. These structures are often freestanding and covered with a roof, one element which makes them perfect for creating an outdoor living or dining area shielded from the elements.
What is a fancy porch called?
An ornate porch is often referred to as a veranda or a portico. These structures are typically grander in scale and design, making them the perfect choice for adding an elegant touch to your outdoor space.
What is the difference between a veranda and a porch?
A veranda is typically a grand, ornate structure often found on the front of Victorian or Colonial homes. It can be freestanding or attached to the house and typically features decorative pillars or balustrades along its railing. A porch, on the other hand, is more utilitarian in nature and is generally attached to a house with a roof overhang. It is more commonly found in modern homes and can range from an open-air space to a fully enclosed room.
Both verandas and porches offer the perfect solution for creating an inviting outdoor kitchen and living area that your host friends can enjoy all year round.
How can I make my porch more private?
Privacy is key when it comes to landscaping and creating an oasis in your backyard. To make your porch more private, consider adding plants or trellises to block the view from neighbors and passersby.
Alternatively, you have new furniture that can incorporate opaque curtains or shades that can be drawn for added privacy. You can also add a fence around your porch area for additional privacy.
What are some of the best ways to keep my porch cool in the summer?
In order to keep your porch cool, invest in fans or outdoor misters to move fresh air and provide a breeze in the area. You can also hang sheer curtains around your porch space to provide shade and limit direct sunlight. If you have access to natural elements like trees or shrubs nearby, be sure to take advantage of their cooling effects by positioning patio furniture near them.
Finally, opt for light-colored furniture and fabric to the light colors help reflect the sun's rays away from your porch.
Conclusion
After the simple steps we've outlined in this blog post, your porch is sure to be a perfect outdoor retreat. From choosing the right furniture and seating, incorporating Lighting To Add Ambiance, creating an outdoor rug area adding texture and comfort, and hanging wind-chimes or other outdoor decorations such as birdhouses; there are endless ways to make your porch into something comfortable and cozy. The addition of plants and flowers for a pop of color will really hang it all together.